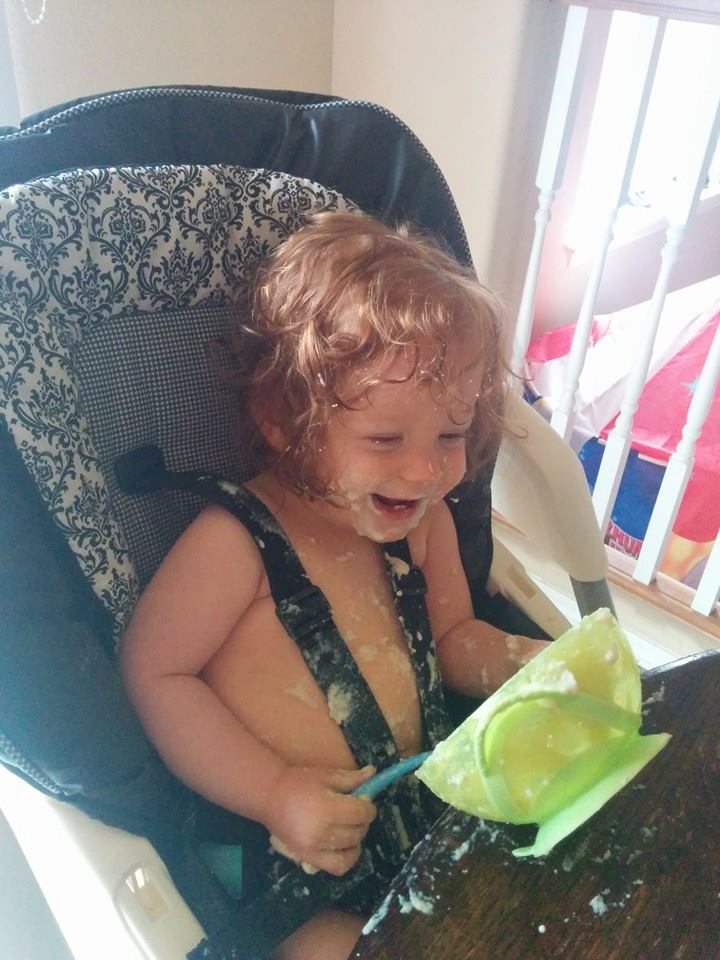 You know those Facebook updates: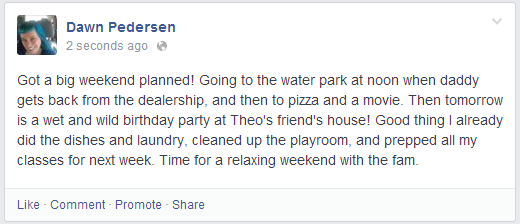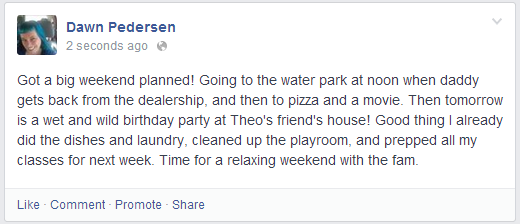 The real scoop: it was 10am and my 4-year-old son still hadn't eaten because "I'm not even hungry", and he has been wearing the same clothes for three days. Cleaning up the playroom consists of getting a bunch of toys off the floor and not much else. The laundry is clean, but still in baskets unfolded. Daddy had to spend $90 at the dealership just to get a fuel cap replaced. And "relaxing" is relative; relaxing with a preschooler around is pretty different from when I was 21. I ended up sunburnt to hell and pretty cranky by the end of Saturday.
And on last Thursday morning, my son only had Oreos for breakfast.
Whenever your life feels inadequate because of reading all those horrifically perfect Facebook statuses by parents who seem to have it all down: today we call their bluff.
Our Respectful Parent bloggers got together and shared examples from their own lives.
Names have been changed to protect the embarrassed.
DH = darling husband, DD = darling daughter, and DS = darling son.
Sophia
The Facebook Post
I changed DS's poop disaster, gave him a bath, put in a load of laundry, then we made bread together, then I vacuumed and used the carpet cleaner, then I put his laundry away, I finished making bread and made lunch and then we had a fun afternoon at the pool, after which I went for a run.
The Reality
Sounds great. Could have posted that as my status. But I would not have mentioned how, in all the craziness, I forgot to give my kid breakfast, until he asked at 11am if he could eat something now. Or how this was the one day this week I did anything productive, so I HAD to get all that stuff done. Or how my run was a total disaster, because I was hungry and dehydrated. Facebook makes it easy to make your life look perfect.
Candace
The Facebook Post
Yesterday I went to the gym for an hour kickboxing class, got acupuncture, picked up house, planned our first RV trip and played hide and seek and did puzzles with my kids. Then my husband and I went out to an amazing dinner! So blessed.
The Reality
Kids would not eat breakfast I made, I forced DD into car seat screaming, I was late picking her up from school, she wouldn't nap but I was so tired I went down stairs to lay down so I couldn't hear her. Kids were fighting all day so by 5:00 I let them eat an entire bag of Doritos for dinner. When we got home from dinner ants were covering the kitchen counter so we gave the kids Popsicles about 30 mins past bedtime so they wouldn't bug us for the time we had to clean ants. It's so glamorous!
Claire
The Facebook Post
Yesterday, the toddler and I baked scones together, then we went grocery shopping while daddy was at the dentist. He walked the entire time we were in the store and I got comments and smiles from all the old ladies about how well behaved he was. Then I made him lunch and put him down for a 2-hr nap while I cut hubs' hair, hubs and I had a nooner, I got a shower, cleaned the kitchen and made gluten-free, dairy-free cupcakes for our afternoon play date, while hubs played golf with some guys from work. After our play date, we had a lovely home-cooked meal with a good friend, and headed home for bedtime.
The Reality
I HATE grocery shopping and Kroger stopped doing double fuel points last weekend and that was the only reason I had saved grocery shopping for Friday morning. I got DS down for a nap an hour and a half later than I should have and he only had a half a PB&J for lunch. I left the kitchen a mess when we left for the play date, arriving almost 2 hrs after the scheduled start time. Hubby's golf game got rained and hailed out after the front nine, so he and his buddies went to Hooters. The only reason I was having dinner with a friend was because I was waiting for my dad to fly in. His plane ended up coming in 2 hours late, so I drove him after bedtime while DH waited at the airport. DS did not fall asleep in the car, so he got to sleep over an hour late and he's now testy and sleep deprived today.
Lisa
The Facebook Post
Yesterday I ran DH to the airport, did monthly business bookkeeping, cleared my inbox, planned a new client audit, gave DD her bath, went to the store to buy groceries, bought new decorative pillows for the living room, cleaned the kitchen and still had time for a glass of wine.
The Reality
I was a hot mess yesterday and forgot to brush my teeth.
Marie
The Facebook Post
Yesterday I went to a doctor's appointment, voted, took DS to the pool, made roasted vegetable and chickpea salad during DS's nap, hosted a play date, and had a quiet dinner with hubs after DS went down for the night.
The Reality
DS ate his snack and lunch at the pool, snack and lunch being Cheezits, I put DS to bed 45 minutes early because he was being annoying, the roasted vegetable and chickpea salad tasted like shit, we ate it in front of the TV, and dinner was quiet because I was giving DH the silent treatment for coming home late from work.
Alexa
The Facebook Post
Today we went out to breakfast, the kids had a blast! #familyfunday #lovethem #summertimeliving
The Reality
We had to go out to eat because we had no clean dishes, we are exhausted because of nonstop summer commitments that doesn't keep a kids schedule in mind and that neither kid ate while we were there! #itsalltrue #halfthestory #summertimecrazy #isitwinteryet?
Brenda
The Facebook Post
Yesterday I made eggs with the kids, got a haircut, picked up some food from a farm, went to the doctor, and enjoyed wine with DH after the kids went to bed. So blessed.
The Reality
DS went through an entire potty power hour without pooping and then had two huge blowouts at daycare which the teacher couldn't disguise her contempt about, I didn't get any work done, I forgot to take dinner out of the freezer so we ended up with takeout, I got soaked twice because I forgot an umbrella, and I ate a scone for lunch and felt nasty afterwards because a scone isn't a good lunch.
Sandra
The Facebook Post
Yesterday, I made my child homemade breakfast before I went to Home Depot, Jo-Anns, and Fred Meyer to pick up supplies to finish DIYing DS's room. Once we were home and DS was snuggled down for nap, I installed a mirror, sewed some curtains, primed a dresser and cleaned my entire downstairs, all while doing the laundry. Then I gave DS some water play time in the backyard before bedtime, where we read two books together before I tucked him in and turned on some Jim Brickman lullabies to lull my sweetheart to sleep.
The Reality
I didn't get my kid out of his crib until 10. "Homemade breakfast"= 2 frozen waffles and a banana. DS was totally chill through the first two stores, then threw a massive fit in the parking lot of the third store because he was so done. "Installing a mirror" = drilling four holes in the wall and calling it good even though it is REALLY crooked. "Sewed some curtains" = tried to figure out how to thread the sewing machine for thirty minutes before giving up. "Primed the dresser" means I set up the dresser in the garage to be primed. Then I did the one dish from breakfast, and let the dog lick up the crumbs. I moved the laundry I had started yesterday from the washer to the dryer. DS woke up from nap and refused to eat anything but animal crackers. I shut him in the backyard with the hose on so he would leave me alone for five seconds. I only read the titles of two books to him before he threw them. Then I turned on the lullabies full blast to drown out the screaming that went on for FOUR HOURS.
Janice
The Facebook Post
This morning DH made breakfast, we went to the farmers market, bought organic produce and now I get to have the afternoon to myself while DH and DS go out. Feeling so lucky.
The Reality
We really cannot afford eating organic all of the time, we came home a little after DS's nap and he might miss it, DH is having terrible pain in his knee and he tries to suck it up for his career and his family and this morning I drove which is super unusual when we are together but he went straight to the passenger seat which tells me his pain was probably big. Then my kid acted aggressively with his brother probably out of jealousy but I couldn't find that much empathy because I am super exhausted and feel sleep deprived.
Shelly
The Facebook Post
This morning my kids woke nice and late at 7 AM. After I fed my baby I made hash browns and eggs for my family and then went for a 1.5 mile run! Now I'm getting ready to go to the zoo with my dad and sister.
The Reality
I could not fall asleep last night so stayed up until 1:30 watching crappy TV. I only made that breakfast because I wanted it and would have let my family eat whatever. Then when I left for my run, I had to pry my crying 2 year old off of me and leave him clinging the door shouting "I want my mama."
Miranda
The Facebook Post
This morning I went to the store and bought fresh organic fruit to make smoothies for my girls. DD picked out matching shirts for them to wear. How cute is that? Then I cleaned the kitchen, did some laundry, and let the girls play while I took a shower. #blessedlife #summerdays
The Reality
For the 3rd fucking time the milk from Trader Joe's has gone bad before its expiration date and so we had nothing to eat in the whole house and I had to drag my tired husband out of bed at 7 so he could sit with a crying baby and a 2 year old screaming "I want smmmmmoooottthhhiieeeee!!!!!!" While I went to the store, DD threw a fit because she wants to wear winter clothes, but it's going to be 90 today so I convinced her to wear summer clothes by saying she could match DD2 that way. Then I realized we are out of diapers so I did some laundry. I cleaned up the rotten milk cereal (did I mention I actually served it to my kid first?!?) and put them in separate rooms with gates so I could shower alone. Now I'm hiding in the bathroom, naked, typing on my phone.
Sarah
The Facebook Post
Similarly I posted this picture to FB this morning as DD wanted to feed herself breakfast.
The Reality
She only did so because I'm hung over and couldn't stand the screaming at 7am, it was then followed by screaming because I wouldn't hold her while she was covered in oatmeal, screaming because I cleaned her up, screaming because I changed her diaper and screaming because I put her back down for a nap before 8am.
Annette
The Facebook Post
Yesterday, we had a fantastic family breakfast, I made our dinner in the slow cooker, then visited old friends for the morning. Had a lovely lunch out and a fun afternoon in the garden in the sun. After our delicious prepared dinner, both kids in bed and now relaxing with a glass of wine. So blessed.
The Reality
The kids screamed all through breakfast because they were tired and I wouldn't let them eat chocolate cake. Both kids fell asleep in the car to our friends, therefore ruining naps. Kids weren't happy at friends house because they had just woken up and there were too many people. They main lined biscuits (cookies). We had lunch out because the kids needed to eat before naps. We ended up in Ikea. DS only slept 15 mins rather than 1.5hrs. I threw the kids in the garden saying play by yourselves and let them both jump on a trampoline without a net. Neither ate the slow cooker meal. Despite starting bath and bedtime by 4:45pm, neither kid was asleep until 8pm after much screaming, crying, rough handling, shouting and general despair. Wine was medicinal.
Barbara
The Facebook Post
Woke up and hung out in bed with my DH and DD. Got up and we all decided to go to the park and then to the zoo. On the way to check out a new furniture store she slept peacefully in the car. Wandered around the store for a bit and then drove home. DD took a 2 hour nap while I went to visit our favorite consignment store and got lots of new clothes for DD for a smokin' deal, food shopping and then to CostCo. I came home and then we did a puzzle, played outside and then DD showered, we had dinner and she went to bed so DH and I could have some time alone.
The Reality
Woke up at 5:15 to my child screaming my name after she woke me 5 times during the night. Hung out in bed with my DH and DD because I was too tired to move. Got up and DH decided to take DD to the park so that I could get some rest but she was adamant that I go and who can say no when their DD asks you to come to the park with her when lately she just keeps telling you to "go away". Once at the park we decided it would be a nice day to go to the zoo so rushed home, packed up and went to the zoo before it got hot and humid. On the way home we decided to check out a new furniture store where she slept peacefully in the car until she woke up and we realized that we made the wrong choice. Wandered around the store for a bit and then she had a meltdown so we fought her to get in the carseat and drove home. DD took a 2 hour nap while I went to visit our favorite consignment store and got lots of new clothes for DD for a smokin' deal, food shopping and then to CostCo. I came home and then we did a puzzle that elicited a huge meltdown when she could not do it by herself, played outside and then DD showered. When it was time for dinner she had another meltdown b/c she did not want dinner. There was a flash flood and to calm her we let her play in the rain for 40 minutes and when it was time to go to come in she lost her mind again. We all watched 15 minutes of Frozen for the 7 millionth time and she peacefully went to bed so DH and I could have some time alone. And I somehow fell short of my 20k step goal today.
Bridget
The Facebook Post
I did 50 minutes of Tae Bo at 5 am this morning.
The Reality
…with my 3-year-old running between my "triangle" (legs), using my feet as a pillow and telling me what I was doing wrong when she wasn't asking if I was done, yet or demanding that I "talk" in the middle of my work out.
Anne
I really can't decide what to write. It's been all so awful lately. My kid literally pooped on the floor tonight.
---
Give us your "perfect" and not so perfect versions in the comments section below!
---