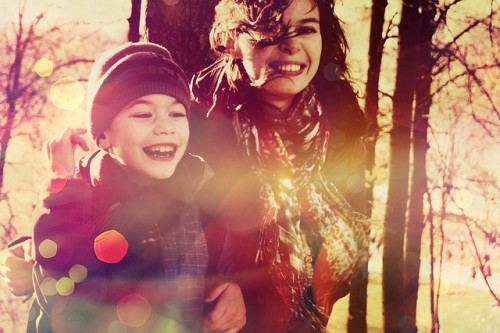 People are often surprised that I don't spank my kids, even more so that I've never given a time-out or a punishment. I've never rewarded them with stickers or presents to get them to do what I want and yet, they still cooperate.  When this discussion comes up, people often ask why and I am usually tongue tied as to what to say. Some think I need to be more firm, more strict, that I am too nice to my kids – some think this means that I coddle and overindulge. I do not. Yet,  because I am nice to my children, people assume I'm a coddler – and plainly speaking – I don't care. I don't care because when treating people with decency is equated with coddling I think we have a problem.
It's hard to explain the reasons I do not spank or punish my children without sounding self righteous or preachy, but the truth is – I don't do it because I want them to know what it's like to be treated right. Am I perfect at it? NO. Not in ANY way. Parenting is a practice, not a perfection so when I screw up I still show respect; I apologize and move on.  I want them to know respect so well that anything else will be unacceptable. I want them to live it, to breathe it and to feel it every day that I am with them. I want them to know it as much as humanly possible so that when they meet its enemy in the world –  they will know it by default. I want revenge, manipulation and insincerity to be foreign to them. They will know it when it finds them because it will hold a glaring discrepancy to what they know to be true.
They will know without a doubt that when someone that they love hits them it is unacceptable because it was never done "out of love" to them at home. When someone isolates them and leaves them out deliberately, they won't think it is alright because we didn't do it at home. We didn't communicate to them that we only love them if they act a certain way.
When their first crush doesn't take "NO" for an answer, they will say it AGAIN and AGAIN because their parents always valued their "No's." When someone tries to tell them they can't  – they will listen to themselves instead because their mother always trusted their voices. They will decide what they are capable of on their own – even if it means bumps and bruises early on. T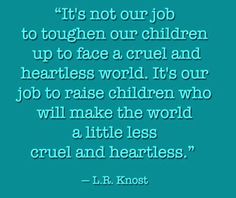 hey will test their capabilities when they are young so they are secure in them when they meet pettiness and spite later on.
When they decide they can't, they will know that voice too. They will know their limits and will feel secure in their "NO" even in the face of peer pressure. They will recognize ulterior motives because their parents never had any. They will know how to set boundaries because their mother set them – without using force or power. They will recognize teasing that is hurtful as such and stand up for their friends like their parents did for them.
When they fall to temptation in the late hours of the night, they will call their parents for help instead of listening to the half-baked ideas of someone who can't. They will call us because they will trust us, they will call because they won't fear the people who love them. They will call because they know they matter as people more than any bad decision they might make.
That is why I do what I do. That is why I teach them what it is like to be treated with respect as much as I can right now. That is why we practice safe boundaries so that when they get out into the world, the contradiction of hatred will be as easy to see as a flashing billboard and they will have no choice but to stand up to it.  They will have been conditioned against injustice not conditioned to accept it with complacency.  I do not want to raise my children to get used to a cruel world, I want to raise them to make it a kinder one.  It is a long battle and the world needs them strong.
I know some of you want the how to do all of this –  so here are some of  links on respectful limit setting:
A very helpful podcast by Janet Lansbury: Setting Limits with Respect – What It Sounds Like
Why Choosing Your Battles May Not Be an Effective Parenting Strategy
I Accept the Mess: What Setting Limits Looks Like
How Recognizing Limits Can Save Your Day
Other links I think you might like:
How to Raise Decent Children Without Spankings or Time Out – Emily Plank
TIME Magazine: Time Outs are Hurting Your Child – Dr. Dan Siegel & Tina Payne Bryson
It IS Possible to Discipline Children Effectively Without Shame -A Very Personal Post by Lisa Sunbury
---