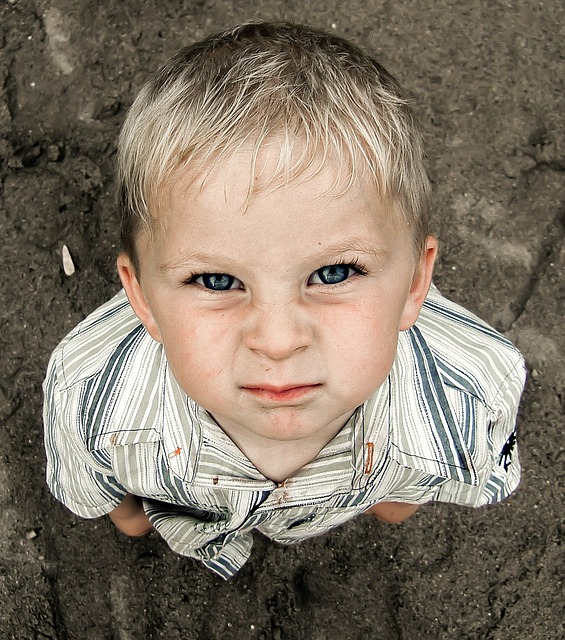 Doubt can plague parents. Are you too strict?  Too permissive? Do you know which things are important to set limits on? Or do you just choose your battles and let the small stuff slide?  Where is the middle ground on limit setting that will help your child become the confident, respectful, and kind person that he is intended to be?
I was recently part of a thought provoking online discussion on the RIE/Mindful Parenting Facebook group about limit setting that highlighted many of these doubts.  Many people were bringing different perceptions on limit setting to the table.  Some didn't realize that they should be setting limits on certain things because those things didn't bother them, some set them inconsistently, some were giving too many choices, others too many chances, while others hadn't adjusted to their children's new developmental stages. Then there was me, who let the small stuff go because it didn't seem worth it in the moment. I was "picking my battles" as the saying goes, or waiting for a better, more convenient time. What I wasn't seeing though, was these aren't "battles," nor are our  children tiny little enemies. They are just children who need direction and by letting the small stuff go, I was reinforcing their tendencies to persist with their wants because they couldn't determine when I would and would not stick to my guns.
It became clear as the discussion evolved that none of these varying perceptions mattered a whole lot – at the crux of the issue, our problems were the same. Most of us weren't setting the strong limits we thought we were.  Some of us were better at recognizing the limits, but engaging in power struggles.  Some of us weren't seeing the limit and some of us were inconsistent. Some of us would make excuses for behaviors when children were tired, sick or stressed; essentially teaching them that it is acceptable and excusable to act poorly during times of strife. Toward the end of the discussion, Brettania, a mother to  3 year old and 15 month old boys, wrote a comment that transcended all our perceptions and we began to see that the issue was much simpler than we were making it. Our children needed leaders and once they had them- life would get easier for us and our children.
Brettania, who didn't realize she should be setting limits on things that didn't bother her, gave a powerful example. After much thought, hard work and a few consults with parent coaches and RIE professionals (Resources for Infant Educarers; pronounced "rye") Janet Lansbury and Lisa Sunbury  Brettania discovered that, without realizing it, she had been trying to set only limits that "seemed completely justified or necessary" with her oldest son.  She made a list of all the things she thought she was permissive and/or wishy-washy about—and, much to her surprise, it was a long list. The list included things like giving her son his favorite spoon even though that meant she'd have to wash it, complying with demands from her oldest that she feed his younger brother a certain flavor of yogurt, or that she switch seats at the dinner table.  She explained:
I had thought that I had plenty of clear, consistent limits in place. And I do—about some things. I realized I am great with limits about safety issues, health issues, issues related to not letting my son do things that would damage our house or things. These limits are easy for me and my son respects them. But, after much thought, I realized that I placate my son in many other areas where I feel unsure of whether or not there needs to be a limit because they are things that usually don't bother me. So I came to the conclusion that, even though all of these little things didn't matter to me, maybe they should. That maybe the reason they should matter to me is because I was giving my son too much power, and making him feel insecure as a result. So I decided that even though I honestly don't care which chair I sit in, etc. I was going to start saying no to all of these 'preference issues' and then just acknowledge and accept whatever emotions came.
When Brettania did tighten her limits, the result was amazing:
Wow! There was screaming and crying, such as when I told him I was going to finish my breakfast before coming to his bedroom…when I (gasp) gave his 1 year old brother MY choice of yogurt…when I told him that his favorite spoon was dirty and he would have to use a different spoon. But these strong reactions only lasted about 2 days. On Day 3 of my 'new plan,' he asked me which yogurt his brother was eating and I replied "banana" (which was usually a flavor he didn't want his brother to eat), and he just took another bite of his food and didn't bat an eye.
By Day 5 she had even more encouraging news:
He is wanting a lot more hugs and cuddles—he just climbs into my lap a lot, smiling, which he didn't used to do.  He no longer wants to follow me around the house when I need to do a task and now chooses to stay in his play-room and play alone when I am busy.
He is also cooperating more readily. Earlier today my phone fell out of my pocket and he grabbed it. In the past, he would not have given it back willingly, and I would have had to follow him and physically take it away. But today I said, "That is not OK with me for you to take my phone. Please give it back," and he walked right back to me and set it down next to me. This has never happened before!
Similarly, we accidentally left the door to our office open and my son ran in. Usually I would have to follow him in and physically remove him. This time I just said, "That is not OK with me, you know that you are not allowed to be in the office even if you find the door unlocked. Please come out." And he walked right back out and said, "Sorry, mom." I almost fell over in shock.
The best thing of all is that he is sleeping better! He always sleeps 12-13 hours overnight, but usually he has 1 or 2 night awakenings when he screams at the top of his lungs and wakes up the whole family. The past 3 nights he has slept through and we have not heard a peep from him overnight. It seems to me that even the improved sleep may be related to my stronger limits.
She continues on to explain what was hard about the new limits, and how she got over that:
The hardest part for me was that it almost felt inauthentic for me to say no to a request, say, to have me sit in a certain chair, since I didn't care about the chair. But if I think to myself, the reason I am saying no to changing chairs now is not because of the chair, but just because I need to make sure my son doesn't feel too powerful, then I can say no authentically because I see it is what he needs from me. For example, with the chairs, my thought was, sure, I'll move, I don't really care where I sit…. Does it end up an issue because he is dictating what I am doing? I was thinking on these sort of things that I didn't care about, that it didn't matter either way to me, so why engage in a power struggle. Now I think maybe it has to do with how he perceives it —like maybe the child is thinking "Wow, I can change where mom sits, if her coat is zipped or not, how her hair is, what flavor of yogurt my little brother eats, etc.," and maybe that is an uncomfortable feeling for a child.
Many parents experience this. It's so easy to give in to the seemingly small demands of your child; washing a favored spoon multiple times a day, changing chairs at the dinner table or watching a different show after you've already changed it three times. Maybe your child insists you play with her and call her by an imaginary name all day long or needs her blanket on just so every time she sits down.  Maybe your self-care is on the back burner—going to the bathroom with the door shut, finishing your meal, or showering.  They are all things you deserve to do—and you can—by setting effective limits and boundaries.
What I began to realize was even the term "choose your battles" was hindering me. These aren't battles – they are children who are having a hard time. Children who need guidance from the everyday parenting decisions we all face.  It can be easy to sigh and switch cups, shrugging it off as trivial, when your toddler screams for the blue cup after you've already filled the red cup he first asked for, but what if you start adding those small things up?  How many times a day are you bending over backwards to please your child, perhaps without even realizing it?  It adds up fast, as you'll see, if you dare to make a list like Brettania's.  Seeing these many opportunities to teach and guide as a kind of battle had become emotionally tiring for me, so changing my perspective was especially freeing. I could now treat them much more casually and with much less struggle. I was then able to see what a sad statement "choosing your battles" actually is – that we might be seeing our youngest and most avid learners as our adversaries and that outlook is not healthy for anyone involved.
Janet Lansbury agrees that limits are a "big deal"—"because," she says, "each interaction defines your relationship. If a 4 year old can wave her hands and make adults move and try to please her, that's a very uncomfortable relationship for the child to be in…especially when she is dealing with a difficult transition like a new baby or a move and needs solid parents more than ever. The more children are going through, the tighter boundaries need to be for them to feel comfortable. Which is not the same as being angry or strict."
As Lisa Sunbury explains, "While children may have preferences and make requests, sometimes the answer is going to be no. And it's paradoxical, but it doesn't work to honor all demands, especially about 'little things,' in hopes the child will then cooperate with the limits you do set…. it just tends to make them feel more insecure and act in more demanding ways. They are just learning this stuff and they are looking to us. If we are tentative, wishy-washy, doormats, unsure, they need to keep pushing to find a clear answer. There is incredible safety in and relief for children when they can count on their parents to be calm leaders, and to provide the limits and safe container in which they can thrash about, knowing the parent will hold firm. "
In other words, we really can't overlook the small stuff like spoons and chairs, because these are really opportunities for our children to feel relieved that we, the parents, are taking care of things and we are in charge. They get to see us model self-respect and to internalize the right way to treat others. When we set limits around smaller issues, the protests around larger issues may decrease by half or even more. When we don't set these limits, we allow them to experiment on our reactions, they then begin to feel insecure and too powerful, leading them to feel older than their age and less free to be joyful and playful. We show them that they can make us do things or they begin to test everything so that we are constantly cleaning up and fixing things they have done because they don't know what we will or will not allow. They begin to wonder and test:  What else can I get her to do? She did it last time, will she do it this time too? What about Dad, will he do it? The behavior persists and then worsens as the child seeks clarity from his less-than-confident parents.
I'm not suggesting that we be militant micromanaging dictators. You can be balanced, and not a dictator, by saving choices for times when there are reasonable ones, particularly in play and self-care: he can pick his outfit, his cereal and what he plays, but, in general, your children don't mandate how far you must bend.  For example, I often let my son take risks that many would not be comfortable with in his play. He climbs, jumps and explores because that's the way he learns to know what his body is capable of and it's how he learns to manage risk.  If he thinks he is capable – he probably is and he makes far better choices because he has been allowed to fail.  There are lots of decisions children can make on their own without us caving to demanding tones on the "small stuff."  And by all means if the spoon is available – go ahead and give it to him! Don't not give it on principle alone, after all we are trying to teach our children manners and self respect. It's the demanding tone and constant testing that we are trying to prevent, not courteous requests.
One clue that your limits have strayed to the permissive side, says Janet Lansbury, is if your child frequently says things like "You have to…" rather than saying "I wish you would…."  If you hear your child demanding rather than asking, or find yourself feeling resentful or annoyed, then it may be time to reel in out-of-control behavior. Say, "I hear how much you want that blue cup. I'm sorry, but it's dirty right now. You can have the orange or the yellow one." Then let the situation unfold as it may.
Your child may, and probably will, protest or cry for a few days as the changes sink in, as Brettania's son did. The crying is healthy—it releases the stress that carrying so much power has caused. Tantrums can be inconvenient and uncomfortable, BUT listening through your child's tantrum, empathizing with his disappointment while holding firm… that will stop him from becoming the demanding, controlling child that we all hope not to have.  In the end, you will have a child who can graciously accept other people's boundaries—a child who is patient, flexible, tolerant, and a joy to be with.
So go ahead and let him be upset about not getting the right spoon or chair or cup—that shows him you value yourself, too.  It shows him that he can relax into being the carefree child he was meant to be, because Mom's got this.
More information on limit setting and accepting emotion:
7 Reasons Kids Need us to Disagree by  Janet Lansbury, Elevating Childcare
Preventing Power Struggles with Choices and Effective Limits – By Tiffany Gough, Respectful Parent
Setting Limits with Respect – What it Sounds Like – a podcast by Janet Lansbury, Elevating Childcare
Confessions of a Pushoever Parent (and How I turned This Around) by Janet Lansbury, Elevating Childcare
Coping with a Limit Tester by Kate Russell, Peaceful Parent, Confident Kids
---