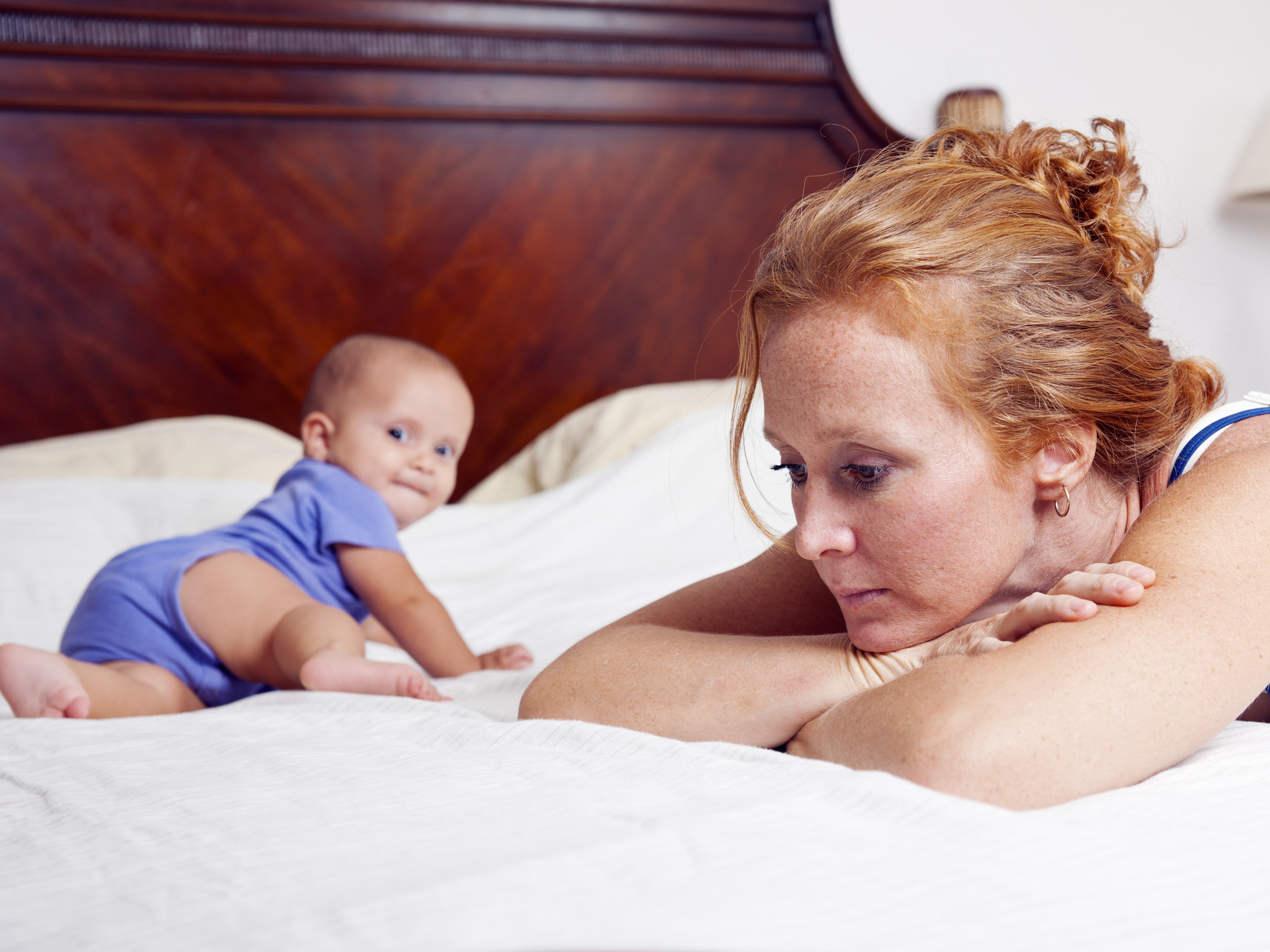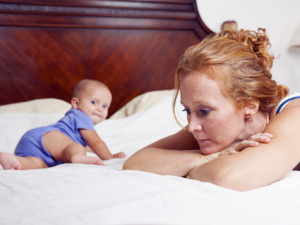 The following is a guest post by Science and Evidence-Based Parenting.
Attachment Parenting (AP) is the latest parenting craze sweeping across the Western world. It's most popular among educated women—with advocates such as actress Mayim Bialik, who plays Amy Farrah Fowler on the popular TV show "The Big Bang Theory". She holds a Ph.D. in neuroscience, and also refuses to vaccinate her kids—a trend common among Attachment Parents.
Women who are drawn to AP usually feel like all the hustle and bustle of modern day life is not a suitable environment for child rearing. They are looking to get back to a more "natural" way of parenting. So they look to more primitive cultures in the developing world for inspiration. In these regions, women commonly breastfeed, and wear their babies on their backs as they're working in the fields. The whole family sleeps in the same bed not due to choice, but due to poverty. Apparently, this is the way we should all be living.
The term "Attachment Parenting" was first coined by the famous Dr. Sears as presented in his bestselling books, "The Baby Book". Sears seems to have developed the concept as a backlash from the prior popular parenting philosophy. Earlier parenting experts claimed that parents shouldn't cuddle children too much for fear of "spoiling" them.
Of course children should be loved and cuddled. But AP seems to have gone from one parenting extreme to another, and tends to attract a lot of wooists (followers of pseudoscience) as a result.  Loosely basing his recommendations on attachment theory, Sears suggests we should follow the 7 baby B's of Attachment Parenting. These are:
birth bonding
breastfeeding
baby wearing
bed-sharing
belief in your baby's cries
beware of baby trainers
balance
Sears and others claim that AP babies will grow up smarter, healthier, more attached, more independent, better behaved, more loving, with better language skills…the list goes on. They claim that AP kids are all around better than your ordinary run-of-the-mill kids. You can find these claims on Dr. Sears website.
I have several issues with this philosophy. Here's why.
1. It's Fear-Based
AP is fear-based. It plays on parents' insecurities. Parents worry that their parenting choices will harm their kids in some way. AP does a pretty good job of convincing them that's going to happen. It promotes a fear of "insecure attachment". But this is something which usually only happens in extreme cases, such as for kids in social care who have suffered neglect or abuse, or if the mother has post-partum depression (or other mental health problems), which causes her to be distant and uncommunicative with her baby.
Most parents don't fall into these categories, and most babies have no problem bonding with their parents. There are no studies on Attachment Parenting comparing outcomes of AP kids with other kids. Sears' claims that AP kids turn out better are nothing more than his personal opinions. There is no evidence to support that kids brought up this way turn out any different from kids whose parents use different methods within a stable, loving home environment.
2.  It's Not the Same as Attachment Theory
British psychoanalyst John Bowlby developed Attachment Theory when attempting to understand the intense distress experienced by infants who had been separated from their parents. He observed that infants exhibited behaviors such as crying, clinging, and frantically searching to prevent separation or to reestablish proximity to a missing parent. He postulated that these behaviors were adaptive responses to separation from a primary attachment figure—someone who provides support, protection and care—because human infants rely on the care of adults for survival.
According to Bowlby, the attachment system asks the following question: Is the attachment figure nearby, accessible and attentive? If yes, the child feels loved, secure and confident and is likely to explore the environment, play with others and be sociable. If the child feels the answer is no, then the child experiences anxiety and is likely to exhibit attachment behaviors such as searching and vocal signaling. Bowlby also recognized that there are individual differences in the way children appraise the accessibility of the attachment figure, and how they regulate their behavior in response to threats.
Later research by Mary Ainsworth began to study infant-parent separations in order to form an understanding of these individual differences. She developed a technique called "The Strange Situation" for studying infant-parent attachment. Twelve-month-old infants and their parents were brought to the laboratory and systematically separated and then reunited with their parent. What she observed was that most children (about 60%) became upset when the parent leaves the room, but when they return the child actively seeks the parent and is easily comforted by them.
Children exhibiting this pattern of behavior are called "secure". Other children (20% or less) are ill-at-ease upon separation and become extremely distressed, and when reunited with their parent they have a difficult time being comforted, and they exhibit anger towards the parent for leaving. These children are known as "anxious-resistant". A third pattern of attachment was also observed. About 20% of children don't appear too distressed by separation and upon reunion they actively avoid contact with the parent, often turning to toys on the laboratory floor. These children are known as "anxious-avoidant".
Ainsworth's work shows that there are a least three types of children: those who are secure, those who are anxious-resistant, and those who are anxious-avoidant. Importantly, she demonstrated that these individual differences correlated with infant-parent interactions in the home during the first year of life. Children who appear securely attached tend to have parents who are responsive to their needs. Children who appear insecure (anxious or avoidant) often have parents who are insensitive, inconsistent, or rejecting in the care they provide. Many researchers have gone onto prove links between early parental sensitivity and responsiveness, and attachment security.
So what does this research tell us? It shows us that the majority of children, whose parents are caring, supportive and responsive to their child, are securely attached. It also shows us that the children who appear insecure have parents who are inconsistent, insensitive or rejecting in their care, and that the child feels he or she cannot rely on the parent for support.
It does not mention anywhere the 7 baby B's of attachment parenting. It doesn't show us that things like breastfeeding, baby wearing, or bed sharing are necessary to form a secure attachment. What it does show is that to form a secure attachment, a parent needs to pay attention to their baby. They need to engage with them, and respond to their needs in a positive manner. These are all things which parents can do without going all-out AP.
3. It's Anti-Sleep Training
There is a lot of bad science and fear mongering surrounding the topic of infant sleep. Sears does a good job of contributing to that. There are several alarmist articles claiming that sleep training methods—including the controversial "cry it out" techniques—are dangerous. The authors claim that these techniques cause stress and elevated cortisol levels, which then lead to brain damage and affect the parent-child bond. But these claims are not supported by science. The research referenced by Sears and others to support their claim of harm from sleep training is mainly based on rats, not humans, and on cases of child abuse and neglect (which does not apply to sleep training). There is an excellent article in Slate which covers this subject in depth:
The first argument made by the journal (and the Sears pediatricians) is that crying-it-out is stressful for babies, flooding their sweet little brains with hormones such as cortisol that interfere with healthy brain development. Yes: Chronic, toxic stress is bad for young brains. But several nights of crying during an otherwise happy infancy does not constitute chronic stress. The types of stress that have been shown to cause developmental problems in children include sexual and physical abuse and serious neglect, described as "the absence of sufficient amounts of essential experiences," which some children raised in state-run institutions in China and Romania suffered, for instance. The Sears family also cites a study showing that babies who cry for prolonged periods have lower IQs than kids who don't, but the study looked at kids who happened to cry a lot more than usual, not those who were left alone to cry. (The Sears family confused the direction of the causal arrow in the study, too, because the researchers concluded that "underlying neurological problems may be the cause of prolonged crying," not the other way around.) When Time magazine senior editor Jeffrey Kluger contacted the authors of some of the studies cited by William Sears for an article he wrote in May 2012, the scientists said it was unfair that Sears had used their work as evidence against sleep training. "Our paper is not referring to routine, brief stressful experiences, but to abuse and neglect," explained Yale psychologist Joan Kaufman. "It is a mis-citation of our work to support a non-scientifically justified idea."
Source: "Cry, Baby, Cry" by  Melinda Wenner Moyer on Slate.com
There is good evidence in support of sleep training. The American Academy of Sleep Medicine reviewed the literature on sleep training. They found that in 17 out of 19 studies unmodified extinction—or "cry it out"—was effective in reducing night time waking and bedtime resistance. They concluded it "has a strong record of accomplishment". Graduated extinction—the technique popularized by Dr Richard Ferber whereby you leave the child to cry for increasing periods of time, but not all night—was also shown to be effective.
None of the studies showed negative side effects of sleep training. In 2012, Australian researchers conducted a randomized clinical trial which followed up 173 6-year-olds who had undergone sleep training as babies. They specifically looked at:
parent-child closeness
psychological health
emotional development
parental attachment
They found no differences between sleep-trained children and non-sleep-trained controls.
And let's not forget the importance of a good night's sleep! There is substantial evidence showing that improper sleep can have negative consequences. Studies suggest that:
Several studies have also shown that sleep training reduces the risk of maternal depression. A 2009 study reported infants of depressed mothers were more likely to be anxious and socially disengaged than infants of healthy mothers.
So there is in fact no evidence of harm from sleep training, and the evidence we do have is positive, showing benefits for the whole family—contrary to the fear-mongering claims of Dr Sears.
4. It's Anti-Formula
Breastfeeding is good. You should breastfed. Breast milk is made for babies and has measurable short term benefits for infants, especially for newborns and preemies. Formula is also made for babies, just not by your body, and it's good too. Babies thrive on formula. It's not "toxic" or "poison" as some die-hard "lactavists" would have you believe.  Many women are unable to breastfeed, or choose not to, and that's fine. That's what formula is there for.
In today's Western societies we have proper sanitation, clean drinking water and modern medicine. There's really not that much difference in the long term outcomes of formula-fed and breast-fed babies. Much of the noted differences are down to socio-economic factors. Here, breastfeeding mothers tend to:
be better educated
more wealthy
live in better areas with access to better schools
less likely to smoke or drink alcohol
have access to better health care
to be more health conscious
to have a healthier diet and lifestyle which results in fewer health problems
This can explain most of the differences between formula vs breast.
There is also no evidence that formula fed babies are any less attached than breastfed babies. How you feed your baby does not dictate attachment. Attachment is based upon building a positive relationship with your child, by being responsive and paying attention to them, not by the mode of feeding. Bowlby's research on attachment theory actually disproved the previous hypothesis that babies attach to the one who is feeding them. AP includes breastfeeding as one of the 7 baby B's, suggesting that it's necessary for attachment, and that the longer you breastfeed the better. By doing so it demonizes formula, guilt tripping mothers who do not breastfeed by making them feel like they're doing it wrong and harming their child.
5. Baby Wearing Is Not Essential
Baby carriers, wraps and slings are great. Many people use them, and they come in useful for transport. It takes the weight off your arms so you can easily walk around. You can go off road and places where a stroller cannot. It also has the added benefit of the motion of your body rocking the baby to sleep. It is great if your baby is colicky and wants to be held and rocked all the time. It's a useful tool.
But it's not necessary for attachment.  Remember, attachment is based on building a positive relationship with your baby, by being responsive and sensitive to your baby's needs.  Baby wearing does not dictate attachment. You do not need to be physically attached to your baby 24/7, as many AP advocates believe.  It's okay to put your baby down in a safe place while you go about your daily tasks. You can still talk to your baby from across the room, make eye contact, smile or sing a song. You don't need to be physically attached at all times and you're not going to damage the parent-child bond by using a stroller instead of a sling.
Also, as your baby grows and develops they need floor time to learn to roll over, sit up, to crawl etc. Preventing your child from experiencing these things could be detrimental to their development.
6. It Attracts Extremists
AP attracts a lot of loonies. There I said it. But it's true. Anti-vaxers are all over AP. People who rely on the Sears pediatricians quite often fall into the anti-vax camp, thanks to Dr. Bob's bestselling anti-vax book "The Vaccine Book". They can often hold extremist views when it comes to AP. It's not uncommon for AP mothers to continue to breastfeed their much older kids, as shown in the controversial TIME Magazine article Are You Mom Enough?, or to continue to carry their child in a sling well beyond infancy. Some APers seem to want to 'baby' their kids for as long as possible when other kids their age are running about the park and climbing trees.
Now there is nothing wrong with breastfeeding or baby wearing, but there comes a point when your child is not a baby anymore and it's necessary to allow them to grow up and become more independent. If you are still breastfeeding and carrying your 5-year-old around on your back, society will consider you to be "extreme". People think it's weird, not to mention unnecessary. There is also this view among APers that their way is the best way to parent, and that other parents are doing it all wrong. It forms an elitist ideology and demonizes other parents who don't buy into it. APers can get hostile towards other parents who they see as being neglectful or even abusive for things like sleep training or formula feeding.
7. It's Uses Standard Advice Mixed With Unfounded Claims
Many of the recommendations in AP are standard advice. Skin-to skin contact, breastfeeding, sleeping beside your baby (but not in the same bed), interacting positively with your baby etc. are all good. The problems arise from unsupported claims like sleep training is harmful and that AP babies are better than others, as I described above.
8. Attachment Parenting Is Big Business
The Sears family and others have made a substantial income on the sale of their books and promoting their parenting philosophy. Sling manufacturers have also benefited as they are becoming increasingly popular—if you go on any of the websites you'll see references to attachment Parenting. Not that slings themselves are a bad thing; they're not.  But let's not forget that the concept of AP is being sold to you for $10.99 when you can just as easily get evidence-based advice for free from your doctor.
9. It's Anti-Feminist
Advocates of AP believe that the best way to parent is for the mother to be in constant contact with her baby. That means being a stay-home mum. But for many women, this is not possible. Most women have to work to put bread on the table, and promoting 24/7 contact as being best for your baby demonizes and guilt trips mothers who are unable to do so. In fact, there is no evidence that returning to work effects the mother-child bond.
Although many people express strong opinions about this, research shows that whether or not a mom (or dad) is employed outside the home – and whether the baby attends out-of-home childcare or not – has little influence on the quality of the parent-child attachment. What does predict quality of attachment is how sensitive and responsive (emotionally available) the parent is in attending to the baby's cues.
Source: "Good Enough Moms & Dads: Separating Fact from Fiction about Parent-Child Attachment" by  Marti Erickson, Ph.D. at University of Minnesota
10. Attachment Parenting Is Simply Unnecessary
You do not need to follow the methods of attachment parenting to bond with your baby. There is a good fact-sheet from the University of Minnesota which explains about attachment and addresses attachment parenting.
"Attachment parenting" has become a popular movement in recent years, but attachment research offers no evidence that such an approach is necessary for a good, secure attachment to develop. Certainly breastfeeding has many benefits. And babies often love being held (or "worn") close to a loving parent. But, beyond being warm and sensitive in responding to a baby's cues, there is no clear prescription for a secure attachment and there is room for a range of acceptable choices about sleeping, feeding, and how and how much to hold a baby. Parents need to figure out together the arrangement that will allow them to feel the most rested and relaxed so that they can be emotionally available to love and enjoy their baby.
Source: "Good Enough Moms & Dads: Separating Fact from Fiction about Parent-Child Attachment" by  Marti Erickson, Ph.D. at University of Minnesota
Conclusion
So what can we say from all this? As far as I am aware, after conducing several searches, there is no research comparing the outcomes of children raised by Sears' attachment parenting methods (following the 7 baby B's) and other parenting methods. So Sears' claims that AP kids are healthier, smarter, more attached and all round better are unsupported.
We know that attachment is formed by repeated positive interactions with your baby over time, crucially between 4 months – 2 years. Parents who give regular positive attention to their baby—like warm eye contact, talking, singing, playing, who make their baby laugh, and who are able to soothe their baby when they're upset—can be confident that they are securely attached. Most babies have no problem forming a natural attachment to their parents no matter which methods are used. We know it's not even about the amount of time you spend with your child; it's about the quality of that time.
It's possible for mothers who breastfeed or baby wear all day long to not attach with their baby, if they're not giving them regular positive attention. Insecure attachments are formed when the mother is unreliable in her care, when she's regularly ignoring the baby, not responding to its basic needs and not communicating positively on a regular basis. We know that mothers with depression are at risk of insecure attachment. We have effective medication for that, even if it means being unable to breastfeed—which is not the end of the world. We know that sleep training also reduces the risk of post-partum depression and parental stress, by allowing everyone to get a good night's sleep.
Mothers who formula feed instead of breastfeed, who go back to work instead of staying home, who use a stroller instead of a sling, who put their baby to sleep in a crib instead of in the "family bed", or who sleep train and have structured daily routines are still able to form that natural bond with their babies. These things don't matter when it comes to attachment. Being a loving, caring parent, positively interacting and cooing over your new baby, making them laugh and comforting them when they are distressed is what builds a secure attachment. That can be done without the need to buy into the 7 baby B's of the Attachment Parenting philosophy.
References
Ask Dr Sears – Attachment Parenting
http://www.askdrsears.com/topics/parenting/attachment-parenting
Course extract: Attachment theory
http://www.open.edu/openlearn/body-mind/childhood-youth/childhood-and-youth-studies/childhood/course-extract-attachment-theory
A Brief Overview of Adult Attachment Theory and Research
https://internal.psychology.illinois.edu/~rcfraley/attachment.htm
Good Enough Moms & Dads: Separating Fact from Fiction about Parent-Child Attachment
http://www.cehd.umn.edu/ceed/publications/tipsheets/…/attachmentfactorfiction.pdf
The Science Behind Dr. Sears: Does It Stand Up?
http://ideas.time.com/2012/05/10/the-science-behind-dr-sears-does-it-stand-up/
A journal jumps on the Dr. Sears bandwagon to say sleep training is dangerous. Science says otherwise.
http://www.slate.com/…/clinical_lactation_jumps_on_the_dr_sears_bandwagon_to_say_sleep_training.html
Behavioral Treatment of Bedtime Problems and Night Wakings in Infants and Young Children
http://www.journalsleep.org/ViewAbstract.aspx?pid=26636
Five-Year Follow-up of Harms and Benefits of Behavioral Infant Sleep Intervention: Randomized Trial
http://pediatrics.aappublications.org/content/130/4/643.long
Sleep Problems in Early Childhood: Continuities, Predictive Factors, and Behavioral Correlates
http://pediatrics.aappublications.org/content/80/5/664
Sleep deprivation and neurobehavioral functioning in children
http://www.sciencedirect.com/science/article/pii/S0167876013001906
Sleep Deprivation Impairs the Accurate Recognition of Human Emotions
http://www.journalsleep.org/viewabstract.aspx?pid=27729
Improving infant sleep and maternal mental health: a cluster randomized trial
http://www.ncbi.nlm.nih.gov/pmc/articles/PMC2083609/
Maternal depression and anxiety across the postpartum year and infant social engagement, fear regulation, and stress reactivity.
http://www.ncbi.nlm.nih.gov/pubmed/19625979
Is breast truly best? Estimating the effects of breastfeeding on long-term child health and wellbeing in the United States using sibling comparisons
http://www.sciencedirect.com/science/article/pii/S0277953614000549
Is Breast-Feeding Really Better?
http://well.blogs.nytimes.com/2014/03/04/is-breast-feeding-really-better/
Are the benefits of breastfeeding oversold?
http://www.sciencebasedmedicine.org/are-the-benefits-of-breastfeeding-oversold/
Risk and Total Motherhood in the National Breastfeeding Awareness Campaign
http://jhppl.dukejournals.org/content/32/4/595.full.pdf+html
---